This story was featured in our 2017 Annual Report, which can be found on the Media Gallery page on our website. Check it out to learn more about our partnerships with families, schools, and agencies across the country.
Just Adam Being Adam
Living a full, independent life is something most people want as they grow up. Adam Wiser is no different. Over time, Adam knew he wanted to live on his own. He wanted to explore the world around him with a jam-packed life full of activities he loves.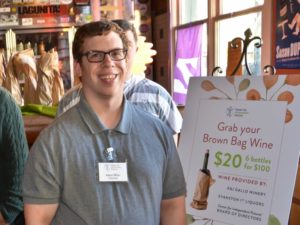 A road trip offers a chance to experience new places, broaden horizons, and have fun. For Center for Independent Futures participant Adam Wiser, a road trip seemed like a great opportunity to bond with buddies. So last year, Adam and two of his friends went to Pittsburgh, singing along to Billy Joel and enjoying the "thrill of the open road."
When Adam moved to the Chicagoland area, he left his family behind in Indiana. He fell in love with Evanston, and built a life filled with work at Nordstroms Café, cruising around on his Diamondback, and hanging out with friends. These days, Adam loves movies on the big screen and prefers comedy and action films. "You need to see the second Thor movie," Adam advises. "It'll really make you laugh!"  An avid sports follower and loyal Cubs fan, he enjoys an occasional chance to see them play. "It feels awesome to be at Wrigley Field," he shares. "I am not really into the SOX."
Following Adam's Dreams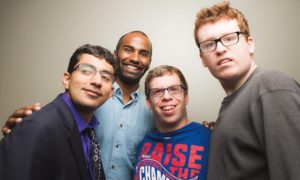 Adam's parents, Tom and Gloria, encourage him to follow his dreams. "We want our son to grow as an individual, expand relationships, and have the support he needs to become who he is meant to be…his best self," shares Tom. With Center for Independent Futures support, Adam is part of a genuine community and has a full life with authentic connections. "If anything comes up, serious or not, someone is there to support him through it," says Tom. "For parents living away from their kids, that's a lifesaver."
"It's an absolute joy to be part of Adam's team and to watch his confidence and capabilities grow," relates Community Builder, Aby Karottu. "He brings so much humor, positive energy, and liveliness to the community, and he always lends a helping hand." Aby adds, "I consider myself lucky to support such a caring, charismatic, and kind young man."
Adam's Pittsburgh adventure included the symphony, a Pirates game, and the Heinz Museum, where he learned all about the city's transportation history…and ketchup. When Adam thinks about his goals, more road trips and see new things are at the top of his list. Adam's next destination: The Mall of America in Minneapolis. Anybody ready to hit the road?